Email Template Design Made Easy
Create targeted, personalized, and on-brand email templates for your brand
Messageharbor helps businesses create and design email templates. With it, you can quickly and easily create professional-looking email template designs without learning code.
You can use the drag-and-drop editor to add text and images. You can also edit the color scheme and fonts of any individual email template to customize it for each recipient of your newsletter or other marketing messages.
Here are a few of the benefits you can expect from using Messageharbor as your email template design service:

We have a wide range of templates you can use as-is or customize to your needs.

Our team comprises professionals who will work with you to ensure that your emails look great and get results.

Personalized support teams will work with you until you're satisfied with your final design.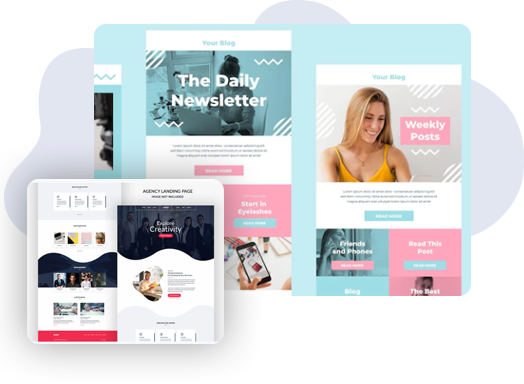 Our email template design process ensures that you get the best possible results every time

Email Template Design Brief
Before we begin, we want to ensure you get what you need from your email template. We'll ask you questions regarding your company, your products and services, and your target audience. This will help us create a template that is not only beautiful but also effective in reaching out to your audience.

Once we know more about you and your business, we'll begin designing the HTML template. It means deciding on fonts, colors, images, and other visual elements that will make up the look and feel of your email campaign. We'll also include any required code for tracking purposes (such as click-tracking pixels).

Once we've finished designing the template, it's time to develop it into HTML code that you can use in the email campaign. This process is typically completed within 24 hours or less by our team of experts working around the clock so that you receive your new email template as soon as possible!
Why Choose Messageharbor For Email Template Design
If you're looking for an email template designer, you've come to the right place. Messageharbor offers professional email templates designed by our team of email experts.
We understand the importance of having a high-quality template when sending emails that can get your message across clearly and concisely. We also know that finding a designer who understands the nuances of email template design and works with you every step can be challenging.
That's why we offer custom-designed templates tailored specifically for your needs. Our team of experts will work with you to understand what you want in your templates, then create something that fits all those needs perfectly.